travolgente esuberante Country rock
Provenienti da innumerevoli e diverse esperienze, i sei componenti si ritrovano quasi per caso a suonare musica country e bluegrass. Il repertorio si ispira ai vecchi classici della tradizione popolare americana; spaziando anche in alcune rivisitazioni e riarrangiamenti
di pezzi più moderni. Un miscuglio di Steve Earle, Pete Seeger, Johnny Cash, country, gospel e folk per ricreare un angolo di Tennessee!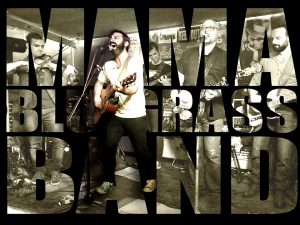 LINE UP
Alberto Santambrogio – banjo, vocals
Daniele Borghi – fiddle
Steve Battistella – electric, acoustic guitar
Lorenzo Marinoni – bass
Marco Castelli – drums, vocals
Marco Andrea Francis Carnelli – lead vocal, acoustic guitar
Biografia
Dopo il successo di Living in a B Movie (2014), la Mama Bluegrass Band prova ancora a stupire i suoi fan sempre più numerosi esplorando ancora una volta nuovi terreni musicali.
DOGS FOR BONES èil nuovo disco, come il precedente completamente composto da brani inediti, dove le sonorità si fanno ancora piùrock, segno di un'evoluzione continua che da sempre caratterizza il percorso e il suono della band e che va oltre la contaminazione già presente nella discografia.
Le sonorità graffianti ci portano letteralmente all'osso della questione senza troppi giri di parole: le ossa sono quello che rimane perchè nelle vite di ciascuno di noi, di questi tempi la carne sembra essere ormai finita.
La Mama Bluegrass Band disegna personaggi alla Johnny Cash che cercano una scorciatoia per una felicità che a volte si dimostra effimera a cui fanno da contraltare coloro che invece, lottando giorno per giorno, alla fine riescono a cambiare in meglio le cose.
Sappiamo che è difficile essere un Dog for Bones, ma il consiglio èdi non permettere a nessuno di abbatterci e trascinarci in basso: DON'T LET NO ONE BRING YOU DOWN
Nidaba Theatre
presents
MAMA BLUEGRASS BAND
"Country Rock Explosion"
1° show 8.00pm
2° show 10.30pm
Free admission only with reservation
Ingresso gratuito con Prenotazione
Sarà possibile prenotare il proprio ingresso seguendo queste regole
Scrivere un whatsapp al numero: +39 366 999 8490
indicare il giorno e a quale spettacolo volete partecipare: 1° alle 20.00 – 2° alle 22.30
indicare: nome e cognome di ogni partecipante
indicare il tuo indirizzo email
!! Per favore: se prenotate e poi non potete partecipare, avvisatemi subito! Diamo così la possibilità ad altre persone di godersi una serata al Nidaba.
It will be possible to book your entrance following these rules:
Write a whatsapp to the number: +39 366 999 8490
indicate the day and which show you want to participate in: 1st at 20.00 – 2nd at 22.30
indicate: name and surname of each participant
indicate your email address
!! Please: if you book and then cannot participate, let me know immediately!